Improve Your English – The Simple Guide That Helps You Understand English Grammar and Punctuation
English is complicated.
And of course it's the world's foremost language.
So improving your understanding of English will help you in your work, your travels, your understanding of the world around you as well as your enjoyment of movies, music and literature.
You know all that.
But knowing English inside out? That's a bit trickier.
It's confusing. There are so many versions of it, for a start – British English, American English, slang, English that's used when messaging or on social media, work-based jargon, academic language, legalese… Like I said, it's confusing.
Of course, it's not your fault.
You want to improve what you already know, for all those reasons I mentioned above (plus one or two others, no doubt).
I'm happy to say that you've come to the right place – because I've got something special for you:
Improve Your English – The Simple Guide That Helps You Understand English Grammar and Punctuation
Hi, I'm Paul.
I'm a professional writer and sub-editor (which means I make other people's writing even stronger before it gets published) and have written countless ebooks, articles, blog posts (for myself as well as clients), a novel (which I tweeted, line by line), comedy scripts, press releases, marketing emails, adverts…you name it, I've written it. Clients of mine include the International Olympic Committee (IOC) – and they demand a pretty high standard of writing, as you can imagine. (Anthony Edgar, Head of Olympic Games Media Operations, said later: "I highly recommend Paul."). You can read more about me and my work here, at PaulParry.com.
Improve Your English is well-loved by people all over the world just like you – learners, teachers, adults and children.
"Paul has a lovely tone to his words. He brings a nice, easy-going, laid-back approach to his teaching and it is very welcoming. I don't feel pressured to achieve or to conquer, simply to improve if I choose to. It is very well written and easy to follow." – Susan Bush, Qatar

"I found your book to be very good. It is very clear and straight to the point. It clears up lots of confusions and saves a lot of time explaining. A wonderful tool to have." – Felix Yang, Malaysia
There are plenty of books on English out there, but none of them seem to give all the information you need – including many of the reasons why English can be so confusing – in such a clear, simple and easy-to-use format as this book.
You're here because you want to improve your English. You've found a trusted source, a native English speaker who's also a professional, freelance writer and sub-editor (my professional site is here, if you want to read more about what I do and who I do it for).
You can spend hours and hours of your precious free time looking at other websites and spend your hard-earned money on books that may or may not be right for you, as you try to make sense of the confusing but essential language that English is.
Or you can download Improve Your English and learn from the 'EnglishLanguageExpert' in an afternoon.

Buy this on Selz
Selz powering ecommerce websites
"I loved your book. It taught me a thing or two, I can tell you. Just goes to show that you're never too old to learn, or re-learn a few things!" – Emma Tombling, London, UK
I'm proud to offer Improve Your English for $47.
But even at that price, you don't have to worry as Improve Your English comes with my 100% money-back guarantee. If you feel the book's not right for you, ask for a refund within 30 days and it's yours, no questions asked. 

So you have nothing to lose, right?
Grab your copy of  Improve Your English and, er, improve your English right away. I've worked hard to produce a guide that'll help you use English to enjoy those things in life that are important to you (better work, education, enjoyment of entertainment, culture and literature, travel…).
But don't just take my word for it – ask some of those who have already benefited from Improve Your English –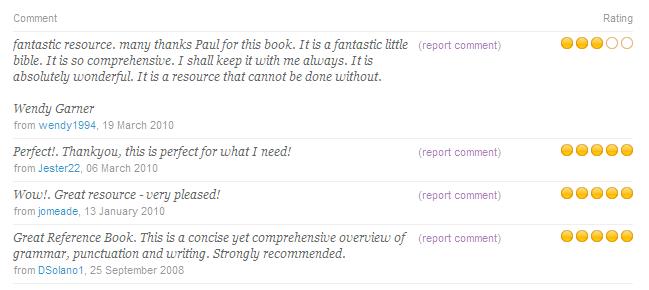 Download your copy now – I'm confident you'll love it.

Buy this on Selz
Selz powering ecommerce websites
Best wishes,
Paul Parry – founder, EnglishLanguageExpert.com